B2B
Vat is deducted automatically
at checkout for B2B within EU
Just enter company name. TAX FREE
Vat is deducted automatically
if outside EU

DELIVERY COST

1.Add product to cart
2. Go to check out

Cart will offer lowest estimate

3. Checkout
4. Choose 4 delivery options
BRITA Aqua Gusto 250 - (Softens 250 litres / 2,000 cups / 15 kg of coffee)
Change after 6 months

Details:
Brita Aqua Gusto water filters are perfect for any coffee machine with a water tank. Larger size than the Aqua Gusto 100 and will fit larger internal water tanks. Softens 250L of water at standard hardness - change the aqua gusto when the button indicates that the softener is exhausted.
Aqua Gusto water filters designed by Brita to enhance aroma, flavour ​​​​​​​and appearance of all coffee and will reduce the damaging effects of lime on valves, boilers and groups. ​​​​​​​
Perfect for any HOME OR COMMERCIAL coffee machine with a water tank, including:
Jura,

Saeco,

Pavoni (non lever home models)

Ascaso ( Bar, Steel , Dream)

Lelit

Expobar

Nouva Simonelli
Includes:
- BRITA Aqua Gusto 250 filter
- BRITA Aqua Gusto 250 Brita 6 month timer.
- Brita instructions

Specifications:
Technology: Decarbonisation
Dimensions: 115.5mm/32.9mm
Capacity: 250L / max. 6 months
Packaging: Plain ziplock bag
Tank size:
1.5 Liter maximum size - If larger tank size use 2 filters
Made in Germany

Easy to use;
Just pop the water filter in the tank, add fresh water.
Replace every 6 months or when the label turns red.



---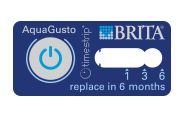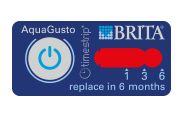 White = Press button Red = Replace water filter
The filter change signal means you always know the right time to change the filter. Simply place the filter change signal in a visible location and press the button firmly.
Specifications
Product Code:

10202.23050.3010288

Brand:

Brita

Condition:

New

Weight:

0.1kg