Coffee descaler
Proper Coffee Machine Descaling
Regular descaling of your valuable coffee machine will keep the machine working at optimum and prevent long-term damage.
BlueStarCoffee.eu sell mainly concentrated citric acid from Urnex and Pulycaff, which is food safe and won't harm the coffee machine. It is not corrosive in any way and won't damage the rubber seals inside the machine. Descaling in liquid format from Urnex, Pulycaff and Gaggia is very convenient. You don't have to worry about the correct mix to water ratio, and it is quicker, as you don't have to wait until it dissolves.
How to Use Dry Descaling Powder?
Pulycaff, Urnex, and Gaggia descaler are very economical and easy to use; just pop a sachet into the water tank and add warm water. Warm water will help the powder to dissolve better. Turn on the machine and remove a cup of water and discard. Wait 10 min for the concentrated citric acid to do its work and remove the boiler chamber scale. Then run the remaining liquid from the water tank until empty. Fill with fresh water, rinse the tank thoroughly, and remove 2-3 cups at east to remove remaining descale liquid.
Self dissolving descale tablets from BlueStarCoffee.eu are an easy-to-use option, just pop a tablet or 2 into the water tank, wait 2-3 min and start the descaling process. They won't damage the machine, are clean and easy to use. Modelled after the Jura coffee machine tablets only much better value. Descaling will prevent solenoid valves from blocking, preventing water from coming out of the group. Prevention is better than the cure and will ensure your loyal and reliable coffee machine's long-term reliability.
The scale is the No.1 cause of problems with coffee machines.
Regular coffee machine descaling: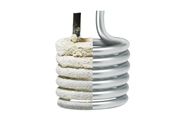 Prevents solenoids valves from blocking,

Increases life of boiler and thermostats,

Helps to prevent steam leakage from group

Increases coffee cream
Showing products 1 to 7 of 7
💰From €7.99 | Universal descaler - Food safe citric acid for any machine
€8.99
€7.31 (ex. VAT)
Universal descaler
€4.50
€3.66 (ex. VAT)
Gaggia Saeco Philips machines
€12.99
€10.56 (ex. VAT)
💰Save 20% - great value | Gaggia Saeco Philips machines
€14.99
€12.19 (ex. VAT)
€19.00
💰From €6.99 |Domestic coffee descaler | 2 x 125ml
€7.99
€6.50 (ex. VAT)
€9.00
Gaggia Saeco Philips machines
€9.99
€8.12 (ex. VAT)
Ideal for E61 group or any home machines| ascaso| Gaggia| Rancilio| Delonghi| Nespresso
€10.99
€8.93 (ex. VAT)