Descalers for Coffee Machines
Cleaning the coffee machine is an essential intervention vital to maintaining top machinery performance and the high quality of the beverages produced. Make sure that the lifespan of your professional and home equipment is long-term by taking care of it thoroughly and carefully with the best descalers for coffee machines from trusted and proven brands! Blue Star Coffee offers an extensive collection of premium cleansing products in liquid, sachet, and powder forms. Competitive prices and comfortable payment & delivery methods are a great addition to the original coffee descalers that you can find in our catalogue!
Showing products 1 to 7 of 7
💰From €7.49 | Universal descaler - Food safe citric acid for any machine
Universal descaler
Gaggia Saeco Philips machines
⚠️Save 20% - great value | Gaggia Saeco Philips machines
Domestic coffee descaler | ⚠️from €6.99 | | 2 x 125ml
Gaggia Saeco Philips machines
Ideal for E61 group or any home machines| ascaso| Gaggia| Rancilio| Delonghi| Nespresso
High-Quality Descalers for Coffee Machines
Timely maintenance and regular cleaning are the keys to the longevity and high performance of your coffee machine. If you notice that the machinery has become worse at brewing espresso, making strange noises and sounds, giving errors and failures, do not rush to get upset and look for where to buy a new one. Perhaps the equipment requires complex cleaning and intervention using a descaler for coffee machine. In most cases, it is a deep cleaning that is the primary type of repair that helps restore the previous performance.
Blue Star Coffee makes sure that you and your customers always have access to first-class drinks. That is why we have compiled here a comprehensive range of the best descalers for coffee machines from the world's leading manufacturers. Here you will find various cleaning products, available in multiple variations and sizes, versatile and suitable for specific equipment types. What's more, we've expanded the catalogue with premium consumables and accessories to make routine cleaning of your coffee maker simple and easy!
What is a Descaling Agent?
Limescale is a solid residue of calcium salts forming on coffee machine surfaces that contact heated water. Water quality plays a decisive role in determining the rate of plaque formation and the frequency of cleaning equipment. However, limescale, being the most common cause of coffee equipment failure, forms on all types of mechanisms. Heating system components, pipes, and steam tools are the most vulnerable and require more careful maintenance using a coffee machine descaler.
Descaling agent for coffee machine is a specialised formulation that contains substances helping to dissolve limescale on equipment surfaces quickly and effectively. Most up-to-date products have a similar composition and are versatile, suitable for various models. Some descalers for coffee machines, developed for coffee machinery from well-known brands, have a particular chemical composition, further improved by additives, which allows you to:
cope with decalcification of both the coffee machine as a whole and individual components more effectively;

extend the equipment lifespan;

minimise the appearance of scale in the future;

improve the performance of heating and steam components;

reduce the risk of leaks and depressurisation;

ensure the preservation of the superior taste of the drink and crema.
Top Coffee Descalers for Sale
There are several common forms of descalers for coffee machines that are easy to operate and suitable for most equipment:
Sachets. This dry coffee machine descaler carefully cleans the equipment from scale and coffee oil residues. The batch product is easy to use and does not require specialised skills – pour the sachet contents into the water tank, start the machinery, rinse after with clean water.

Liquids. Liquid descalers for coffee machines provide the most gentle & delicate cleaning as they are free of abrasive substances. The principle of their operation is similar to sachets. However, the liquid coffee descaler removes dirt softer and has improved penetration.

Pods and tablets. As a versatile cleaner, this option is rarely used only as a coffee machine descaler. Compressed pods do an excellent job of removing coffee deposits and limescale but are not suitable for all types of coffee equipment.

Powders. These cleaning products are also versatile and are ideal for cleaning metal components. Baristas often use them for comprehensive equipment maintenance, preferring the powder coffee machine descaler for external surfaces and removable mechanisms.
All high-quality descalers for coffee machines offer a similar operating principle and do not compromise machinery performance. However, the choice of product depends on the type of equipment and the manufacturer's cleaning recommendations. You can use a dry descaling solution for coffee maker that requires liquid agents, but this should be a one-time intervention. Be mindful of the needs of your machinery, and it will pay off the perfect espresso from cup to cup!
When Do You Need to Use Coffee Machine Descalers?
Some automated coffee makers with a built-in computer are capable of self-diagnosing problems and producing error results. This option dramatically simplifies the barista's work-life and allows for timely troubleshooting. However, many classic and manual models do not have special sensors, which is why owners can determine the need for cleaning only after a mechanism has failed. However, you can always prevent damage by following the simple rules below.
The equipment's instructions usually inform about the frequency of interventions with specialised descalers for coffee machines and recommendations for proper cleaning.

You can also find the necessary information on the description of the coffee maker descaler, thematic forums, or when communicating with an expert.

Consider the factors influencing the formation of limescale. The use of water filters and softeners will extend the interval between deep cleaning.

Remember that regular maintenance is a must-have. Professional coffee makers are more durable and robust, but the absence of scheduled cleaning with a descaling agent for coffee machine is fraught with major and more costly breakdowns.
Buy Premium Descalers for Coffee Machines Online
High-quality descalers for coffee machines are practical and easy-to-use cleaning products designed for descaling the inside and outside of coffee equipment and stand-alone heaters. Timely purchase of such cleaning products means savings on the repairs and equipment replacement since contamination of the working mechanisms most often leads to breakdowns. Using a professional coffee machine descaler guarantees the consistency of the original espresso flavour. Authentic cleaning products do not leave foreign smells and tastes, are safe for equipment and the environment.
The range of new products is wide and varied, allowing everyone to choose the best descaling solution for coffee maker following barista appliances' peculiarities. Most formulations are suitable for automatic & manual cleaning, which is incredibly convenient for maintaining coffee machine group parts, removable tools, and accessories. Check out the Blue Star Coffee catalogue for original descalers for coffee machines and 100's of variations of barista tools and accessories that will keep your equipment in top working condition for years to come!
Proper Coffee Machine Descaling
Regular descaling of your valuable coffee machine will keep the machine working at optimum and prevent long-term damage.
BlueStarCoffee.eu sell mainly concentrated citric acid from Ascaso and Pulycaff, which is food safe and won't harm the coffee machine. It is not corrosive in any way and won't damage the rubber seals inside the machine. Descaling in liquid format from Pulycaff and Gaggia is very convenient. You don't have to worry about the correct mix to water ratio, and it is quicker, as you don't have to wait until it dissolves.
How to Use Dry Descaling Powder?
Pulycaff, Bravilor, and Ascaso are very economical and easy to use; just pop a sachet into the water tank and add warm water. Warm water will help the powder to dissolve better. Turn on the machine and remove a cup of water and discard. Wait 10 min for the concentrated citric acid to do its work and remove the boiler chamber scale. Then run the remaining liquid from the water tank until empty. Fill with fresh water, rinse the tank thoroughly, and remove 2-3 cups at east to remove remaining descale liquid.
Self dissolving descale tablets from BlueStarCoffee.eu are an easy-to-use option, just pop a tablet or 2 into the water tank, wait 2-3 min and start the descaling process. They won't damage the machine, are clean and easy to use. Modelled after the Jura coffee machine tablets only much better value. Descaling will prevent solenoid valves from blocking, preventing water from coming out of the group. Prevention is better than the cure and will ensure your loyal and reliable coffee machine's long-term reliability.
The scale is the No.1 cause of problems with coffee machines.
Regular coffee machine descaling: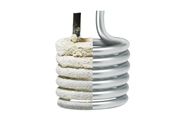 Prevents solenoids valves from blocking,
Increases life of boiler and thermostats,
Helps to prevent steam leakage from group
Increases coffee cream