Water filters
Water filters have 2 main functions:
protecting the coffee machine from mineral damage

enhancing the taste of the water.
98% of your espresso is water which is made up from different minerals including calcium and magnesium which effects the appearance, taste and aroma of your coffee.
Purity C Quell ST cartridge water filters have been specially developed for use in the coffee sector to reduce the carbonate hardness in the water, thus avoiding scale deposits on crucial areas, including valves and copper pipes. electro, stat, when changed at regular intervals which can coat the element, block the micro channels of the coffee group, the pressure buildup
PURITY C water filters prevents lime
In best case scenarios lime build up can cause a reduction in steam preventing cappuccino froth and increase your electrical consumption, in worst cases it can block the coffee group stopping the coffee altogether.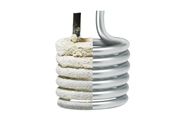 Purity C Quell St filtered water will even preserve your coffee crème and avoid the scum seen on tea in hard water areas.

It removes chlorine, cloudy water particles and your drinks will look and taste better.
Showing products 1 to 22 of 22
💰 From €4.49
€5.49
€4.46 (ex. VAT)
€11.00
💰 From €8.99 | 2 Liter tanks | Passively softens 250 Litres
€9.99
€8.12 (ex. VAT)
€12.00
300 Litres | Keeps machine safe | 2-4 Litre tank
€17.99
€14.63 (ex. VAT)
💰 From €7.49 | 150Liters Lelit | Ascaso | Gaggia | E61
€8.99
€7.31 (ex. VAT)
€10.50
💰 From €9.99 | 275 Liters |Keeps machine safe | 4 Litre tank
€10.99
€8.93 (ex. VAT)
€14.50
Passively softens 100 Litres
€7.99
€6.50 (ex. VAT)
€10.50
💰 Save €10.00 | 110 Liters |Keeps machine safe
€14.99
€12.19 (ex. VAT)
€25.00
💰 From €6.99 |150 Liters |Keeps machine safe | 2 Litre tank
€7.99
€6.50 (ex. VAT)
💰 From €4.65 | 45Liters | Ascaso | Gaggia | lelit
€6.99
€5.68 (ex. VAT)
€8.00
💰 From €2.99 | Softens 22 Liters at standard hardness
€4.99
€4.06 (ex. VAT)
Choose: 3/8 x 3/8 |3/8 x 1/2 |3/8 x 3/4
€4.87 (ex. VAT)
3/8 fitting | 30% bypass
€39.99
€32.51 (ex. VAT)
Head + Filter - save €14 |Drinking fountain | water tap | Filters 10,000 litre's
€39.02 (ex. VAT)
Protect your machine from costly breakdowns
€105.28 (ex. VAT)
€150.00
Prevents pump blockage from sediment
€9.99
€8.12 (ex. VAT)
Prevents pump blockage from sediment
€59.99
€48.77 (ex. VAT)
Dishwashers | Coffee machines
€99.99
€81.29 (ex. VAT)
Dishwashers | Coffee machines
€79.99
€65.03 (ex. VAT)
€90.00
Bottled water system
€194.49
€158.12 (ex. VAT)
Stops particles blocking pump| solenoid valves
€2.49
€2.02 (ex. VAT)
Bottled water system
€129.00
€104.88 (ex. VAT)
€195.00
Used on 3/4 ''water inlet hose
€1.49
€1.21 (ex. VAT)